The first step when lodging an enquiry is to find your job site on the map. Once you've navigated to the right area, you can go ahead and draw the job site.
There are many ways to find your job site: –
Use your current location
Pan and zoom the map
Search by address
Enter GPS coordinates
Search by lot number
Did you know? If you've already lodged some enquiries recently, when the map opens it will choose a default view that contains your recent enquiries.
Use your current location
Clicking on the current location button, will jump the map to your current location (or the location reported by your browser). Your browser will typically ask you to give permission to share your location with the SmarterWX Sentinel application.
Browsers determine your current location in various ways. Sometimes the reported location can be a long way off from where you actually are.
Pan and zoom the map
Most of us are familiar with navigating a web map to find what we're looking for – click and drag to move the map around or double click to zoom in (or pinch to zoom on mobile devices). Here's a couple of advanced tips for easily moving around your map.
Hold down the ALT key (Option on Mac) and scroll up and down to quickly zoom in and out.
Hold down the SHIFT key and then drag your mouse to draw a rectangle around your target area and the map will zoom straight into that area.
Search by address
Clicking on the search tool allows you to enter either a street address or suburb name. As you type a list of suggested matches is shown. Click on one of the matches to instantly jump the map to that location. Your recent address searches are retained so that you can quickly return to the same place.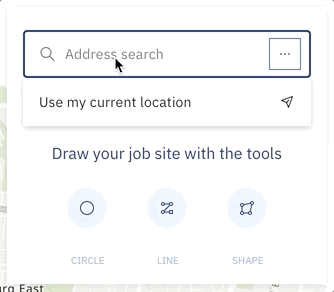 Search by lot number
The search tool has a number of different modes that you can choose from. Clicking on the ellipsis button on the search bar lets you change the mode.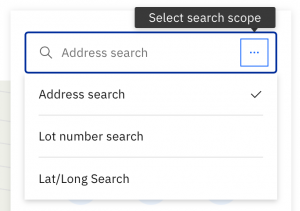 Search by Lot and Deposited Plan DP number by choosing the Lot number search option and typing in your numbers. A list of suggested matches will appear for you to choose from.
Enter GPS coordinates
Changing search scope again you can choose to enter the latitude and longitude of your job site. The format to use is latitude,longitude using decimal coordinates. For example, to search for Brunswick, Victoria you might enter -37.76,144.96.
You can also use the lat/long search tool to reveal the precise coordinates of the centre point of the map. The current centre coordinates are displayed as the default values when you open the search tool.