You can speed up filling in the fields on a BYDA  enquiry by using the "Copy from last job" and "Duplicate enquiry" features.
Often, when you are lodging enquiries with BYDA you will find yourself filling in the same values over and over, especially when the enquiries are all part of the same job. There are two ways to speed up data entry.
Copy from last job
Sitting at the top of the "About this enquiry" form is the Copy from last job button. Clicking this pre-populates the fields using the same values you entered on your previous enquiry.
When you click on Copy from last job, the following fields are pre-filled for you.
Workplace locations
Job start date (as long as it's not in the past)
Job end date (as long as it's not in the past)
Enquiry type
Activities
Working on behalf of (provided the selected authority operates at the dig site)
Your reference
Notes
Any of these fields can be edited if you want to change them. Simply replace the value with your new entry.
Duplicate enquiry
When you are viewing the details for an enquiry, you can click on the Duplicate button to quickly create a new enquiry using the same values.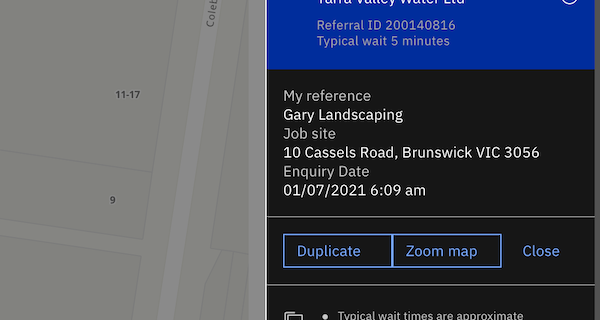 Using the Duplicate feature pre-populates all the fields and also the job site itself. Once again you can change any of the values you need to include changing the shape or location of the job site.
Clicking on the Draw again link allows you to change the job site whilst retaining all the pre-populated values for other fields.